Drone visual inspection in a confined, metallic, humid, and complex environment
EDF HYDRO seek to improve its turbines' inspection, reducing time and costs whilst enhancing inspection quality and predictive maintenance. This challenge is critical for business operations because electricity generation is key for modern society. In the winter season, Europe just about satisfies its needs in terms of electricity generation. All the countries are relying on an interconnected electricity grid to respond to the demand.
Digital Challenge Owner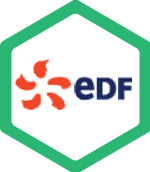 For 70 years, EDF Hydro (part of the EDF Group) has been designing, building, renovating, and operating one of Europe's largest hydroelectric plants. With 20 GW of installed capacity and almost 10% of its electricity supplied by hydroelectricity, EDF Hydro is now the leader in hydroelectric energy in the European Union. The organisation partners with DigiFed to address one of its key challenges on hydraulic inspection and it is looking for a solution helping hydroelectric power unit disassembling during equipment maintenance operation.
Digital Challenge Solution Provider
ISY map is a start-up founded in 2016 focused on developing, manufacturing, and commercializing innovative systems to measure and map severe areas. ISY map expertise is around the conception and realization of embedded systems for remote and wireless measurements. They develop small and smart sensors and the associated software to get data and analyse information in real time. Their aim is to get data everywhere and their main markets are nuclear, defence and security.
Digital Challenge Proposed Solution
To support EDF Hydro, ISY map will develop a miniaturized, lightweight and wireless inspection robot with an ultra-high-definition camera and strong mobility, it will be able to navigate inside small and complex environment. Multiple communication technologies will be embedded inside ISYBot in order to provide a resilient and reliable solution even in complex environment with heavy concrete or metallic structure. The targeted markets for ISYBot are industry (nuclear, chemical and hydro), civil security and military.
This project is being monitoring by DigiFed partner Minalogic.