GE Hydro France
Connectivity and structured information are expected to be the cornerstones of Industry 4.0, but acquiring information is still complex, while the associated costs must be predictable and as low as possible to optimise ROI.
GE Hydro France, Digital Challenge Owners (DCO), is a large company in the energy sector which provides large & small Hydro Projects solutions (e.g hydro plants, turbines and generators).
GE Hydro France, as every industrial large group, has to tackle the industry 4.0 and connectivity challenge to be more competitive.
Today, microcontrollers are evolving fast and have become a great platform for collecting, processing and classifying information at a low cost. However, there are no "off-the-shelf", well-industrialised solutions offering at the same time a panel of sensing capabilities, sufficient resolution, data processing and inference for GE Hydro France.
The organisation entering the industry 4.0 domain was looking for solutions to build an Artificial Intelligence on Thing (A.I-oT) system with common features to cover a large type of components with few data collected and complete their already mature Digital platforms Application Performance Monitoring (APM). The main challenge they faced was building an Industrial IoT solution with embedded Artificial Intelligence (AI) enabling rapid and custom-made prototyping, design for scalability and industrialisation for a specific use-case; the Main Inlet Valve (MIV). This is a critical asset that must be installed before the water enters the hydro turbine's spiral casing.
In 2020, DigiFed organised an open call to identify and select a solution provider for GE Hydro France's digital challenge. This call attracted interest from 35-40 innovators across Europe, with 8 applications being submitted for the final stage of the open call. Eventually, the companies awarded were CATIE and AGUILA Technologies as solution providers.
With the HydroZest project, the selected third party named CATIE (Centre Aquitain des Technologies de l'Information et Electroniques) and AGUILA Technologies offered a customized Industrial IoT solution for GE Hydro France use-case with embedded AI enabling rapid and customizable prototyping, designed for scalability and industrialisation. This solution is based on 6TRON, an environment platform for the development of professional solutions in the field of Industrial Internet of Things (IIoT), which CATIE has been developing for 4 years. This approach allows breaking away from classic habits and solutions (e.g., Arduino, RaspberryPi, …), to innovate (through e.g,, debugging tools, reusable and modular bricks, scalability) and to develop an easily industrialised prototype (i.e., methodology) with costs, efforts and delays reduction.
The HydroZest solution has been designed to extract discriminative information detected through smart sensors and classic sensors used to identify GE's failure modes and anomalies. This latter required connecting a set of sensors, collecting data and running an embedded artificial intelligence algorithm to detect the operating mode of the Main Inlet Valve (MIV) and its condition among a set of failures described by GE Experts to anticipate maintenance. A modular hardware solution to connect the different sensors and quickly gather data has been developed. Modularity is, indeed, important in such projects to be able to iterate and make the prototype evolve with the needs of the application (for instance, to change the microcontroller for processing needs, add a radio module, add more ADCs or add a Real Time Clock).
The project allowed the realisation of a functional prototype of a data acquisition system and the inference of a generic AI model. Moreover, this solution can be reused and evolve in other projects, through the use of new sensors to address new problems around monitoring and data analysis unrelated to the activities of GE Hydro. Thus, the solution created fills a gap in the market with a generic solution for data capture and AI inference.
The functional prototype is ready to be installed. Indeed, in June 2022, a pilot was installed on a butterfly valve – a valve that isolates or regulates the flow of a fluid – to start data collection and inference on customer sites. GE Hydro France is collecting data but is also providing services to enhance availability using its Application Performance Monitoring (APM) Platform to better plan corrective actions and decrease maintenance costs. After this first test, GE Hydro France is ready to install the solution on the following equipment:
The second is a bigger valve that would require a Sensor Node and a Cluster Node to be installed in 2022-2023. This pilot is a spherical valve (the real target type of the challenge).
The third one is a pilot that will be installed later (sensors are still to be provided) and will use the first industrialised nodes.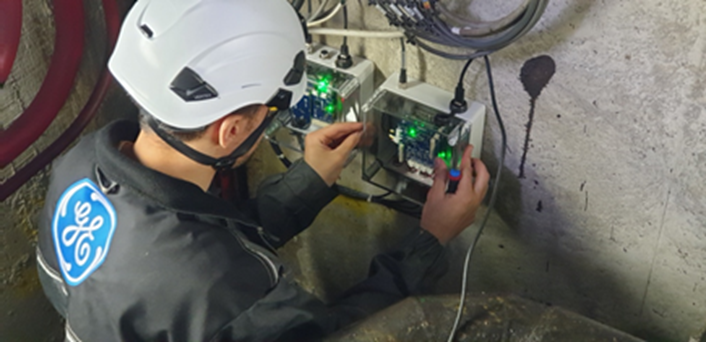 The project started in December 2021 and is set to end in June 2022. The industrial prototype development is in progress and following the planned schedule. Minalogic, as part of the DigiFed consortium, is the monitoring partner and has planned monthly meetings during the entire collaboration to allow all participants of this challenge to explain the ongoing works and ensure all milestones are met in time. Thanks to that, it is possible to know exactly where we are and what are the next steps.
Thanks to DigiFed, the project has been promoted through several channels, the first was the DigiFed website. Then, the project also had the chance to participate in several events, such as:
SAE DIH ecosystem event;
LETI DAYS 2022;
An abstract and a presentation of the work done were submitted at the Smart System Integration public international conference.
Another relevant support received from the DigiFed consortium is the assistance with collecting an important electronic component. Indeed, this Challenge had been impacted by the component crisis and struggled to collect the Microcontroller STM32H753 produced mostly by STMicroelectronics. Thanks to the Digital Challenge innovation pathway, DigiFed provides the Challenge Owner with a structured environment and allows it monitors results.
This perfect collaboration between 3 stakeholders is due to the expertise of each one. Indeed, CATIE and AGUILA Technologies, along with DigiFed's Minalogic, have taken up the challenge. CATIE, a digital technology transfer centre provides the 6TRON platform and its expertise in embedded system design, while AGUILA Technologies brings its industrial know-how and industrial design expertise. The two companies are set to offer a complete Industrial Internet of Things (IIoT) solution with embedded AI enabling rapid and customisable prototyping, designed for scalability and industrialisation for an identified use case from GE Hydro France, a motivated DCOs which is looking for collaboration with SMEs and which knows that innovate alone (or internally) is not a possible option.
All of this work is now available to the community with free, open-source licenses. The MIV models, data and strategy description associated with the MIV use-case itself, however, belongs to GE Hydro France and are not publicly available so that GE Hydro France can keep a competitive advantage while sharing/co-developing some generic developments with 6TRON community to be used out of Hydro Market.
Thanks to this, the DCO has found the perfect selected third parties able to provide it with the right offer for its need. GE Hydro France and CATIE are considering deepening their collaboration even after the Digital Challenge. Furthermore, CATIE will certainly improve some features (e.g., nodes, AI embedded model, etc.) on another use case other than the Main Inlet Vale.