PRE-SELECTED COMPANIES ARE INVITED TO SUBMIT THE FINAL APPLICATION BY 29 September 2021 (5PM Brussels time)
Next-generation conductivity sensors for predictive operation of water treatment
About Acciona
Acciona is a global company with a business model based on sustainability and operating in more than 30 countries on 5 continents.
---
Acciona agua
'We take care of water for a better planet'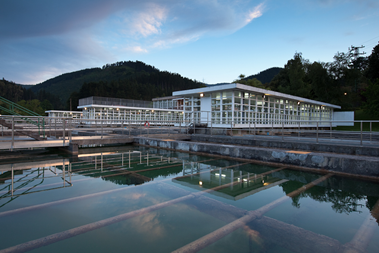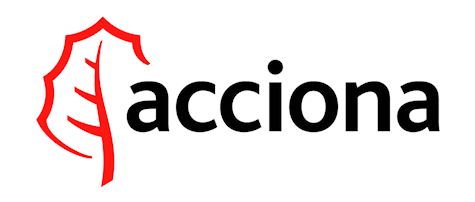 Industry Sector:
Water treatment and supply
Digital Challenge:
'Next-generation conductivity sensors for predictive operation of water treatment plants'
Funding: Euro 100,000
The water business of Acciona is putting its innovative and technical potential into action to create solutions to water scarcity, sanitation problems, access to this vital resource and increased demand.
The company leads the water treatment sector through the design, construction and operation of reverse osmosis desalination plants, drinking water treatment plants, wastewater treatment plants and tertiary treatments for water reuse, and has reinforced its focus on services for cities. It is a worldwide leader in the water treatment sector, especially in the field of reverse osmosis desalination.
In 2020, the company treated almost 1,000 Hm3 of water, 50.4 % in water stress areas, benefiting more than 100 million people throughout history.
Acciona and DigiFed
Acciona partners with DigiFed to address one of its key challenges around water control and monitoring solutions. Acciona wants to know and understand how they can measure and use conductivity data to optimise the operations of reverse osmosis desalination plants.
Acciona is looking to establish an end-to-end digital wireless solution for measuring, reporting, and visualizing the conductivity of each reverse osmosis membrane from pressure vessels part of their desalination facilities.
The solution should provide a wireless sensor to measure and report the conductivity and a basic backend application with data storage and a data visualization dashboard.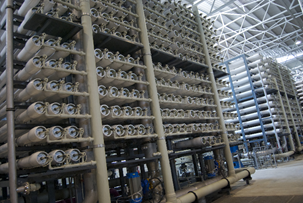 Racks of RO membranes with several pressure vessels (white tubes); in each pressure vessel, 7 reverse osmosis elements are commonly placed
Details about the Digital Challenge
Background:
Acciona is one of the market leaders in the reverse osmosis desalination arena. With a treatment capacity of almost 5 million m3/d (+10% of the total global desalination capacity –excluding industrial use-), the company provides water of the highest quality to more than 26 million people.
However, the monitoring of the performance of individual reverse osmosis (RO) membranes is still based on manually probing the product water tube of a pressure vessel at different locations with a plastic or stainless steel (SS) tube, to obtain a conductivity profile that it is compared to the expected one.
Challenge/ Problem Statement:
The manual technique of monitoring the performance of individual reverse osmosis (RO) membranes is very laborious, time consuming and not practical, especially for large size desalination plants in which thousands of RO elements are part of a desalination facility.
Acciona is looking for innovative digital solutions that could continuously monitor the performance of each membrane element in a multi-vessel array.
With current procedures:
the performance of the elements cannot be assessed in real-time.
water operators have no visibility of the pressure vessel's performance and cannot easily identify the problematic RO membrane inside the vessel.
conductivity measurements are not integrated as part of active operational strategies.
maintenance activities are programmed or carried out only once problems in a rack (a series of pressure vessels joint in one unit) occur.
part of the production needs to be stopped to investigate the problem resulting in high costs and inefficiencies.
Solving this challenge will provide an accurate and continuous monitoring of the permeate quality of each reverse osmosis (RO) element at all times. This will mean an important advance in the digitization of the plants and an important technological advantage in the field of desalination.
Maintenance activities will improve due to immediate detection of malfunctioning elements and less shutdowns plants as the solution will provide early-warning signals of malfunctioning, identifying the RO element(s) that cause(s) it. The solution will allow getting knowledge of the system performance, to improve operation activities and to carry out predictive maintenance.
Plant operators at Acciona will benefit greatly from this development as it will bring transparency on the performance of each membrane element, allowing predictive operations and guaranteeing more consistent water quality. This solution will also enable Acciona's clients and customers to receive the benefit of a better and more environmentally friendly service.
For more details, photos and videos pertaining to the challenge please click on the link provided to download the Applicant Information Pack in PDF.
Key Constraints:
the permeate tube of reverse osmosis elements neither the RO element itself nor the pressure vessel can be perforated to introduce wires
introducing wires will compromise the integrity of the reverse osmosis elements causing pressure leakage inside the vessel or the loss of elements' warranties.
the dimensions of the sensor are limited by the dimension of the internal diameter of the permeate tube (about 2.8 cm).
the sensor must operate in highly corrosive environments, limiting the use of metal parts in direct contact with the permeate water.
Desired Solution:
The solution should provide a wireless sensor to measure and report the conductivity and a basic backend application with data storage and a data visualization dashboard.
The minimum requirements which are a must for the wireless sensor are:
Reported sensor data: conductivity
Measurement range: 50-4000 μS/cm (normalized at 25℃)
Sampling interval: once per day
Battery lifetime of at least 2 years
Wireless communication with the sensor inside the permeate tube
Deployable inside a permeate tube of 28.6mm diameter
Operational in highly corrosive environments
Be temperature compensated at 25℃
Minimum maintenance, (re)calibration of sensors, and scalability are key considerations.
Please note, as nice to have are the following characteristics: measurement of the water flow as well and a sampling interval of 60 minutes.
The backend application requirements are:
Store all readings from sensors
Basic dashboard for data visualization
The expected end-to-end solution should be a demonstrator prototype of TRL 6-7.
A specific testbed for trials and deployments will be made available by Acciona.
Applicant profile:
Acciona are looking to partner with innovative companies in the EU with experience in working in the water, power, pharma, chemicals, food & beverage industry, or developing solutions for monitoring groundwater salinization, soil health monitoring, Clean-In-Place systems etc.
Digital Challenge Owner Support
Challenge specific knowledge
Access to Acciona's testbed facilities
Resources and manpower to work with innovators to implement the technical solution
Technical reviews and sign off meetings to ensure the development stage runs according to plan
Benefit of joint marketing exposure
Engagements with Selected 3rd Party beyond Digifed
Opportunity to start a commercial partnership (manufacturing of the solutions) with Acciona
Opportunity to participate to solve additional challenges for Acciona
What Next:
PRE-SELECTED COMPANIES ARE INVITED TO SUBMIT THE FINAL APPLICATION BY 29 September 2021 (5PM Brussels time)
If you have any questions, please visit our FAQ dedicated page or contact: ana.gheorghe@digicatapult.org.uk or info@digifed.org