Digitalized LED application design workflow, luminaire designs optimized for thermal effects including efficiency
GE OWNER: Budapest University of Technology and Economics (Faculty of Electrical Engineering and Informatics), EET DIH, SSL group
GE Associated national project: NKFIH K_128315 project on LED modelling and reliability
---


---
PROPOSED SERVICE – LEDbeSmart technology for energy saving in outdoor LED lighting
Multi-domain characterization of LED packages aimed for the foreseen outdoor lighting application resulting in full set of isothermal IVL (current-voltage-light output) characteristics of the LEDs and their thermal resistance data
Multi-domain compact modelling of LED packages from test data, resulting in chip level multi-domain LT Spice circuit simulation model and compact thermal model of the package structure
Thermal modelling of the LED luminaire (enclosure / heatsink) and converting to a multi-port compact thermal model
Luminaire level LT Spice simulation of the luminaire that yields the ambient temperature – forward current relationship that assures the prescribed total luminous flux
Consulting on the possible implementation of the above digitalised LED luminaire design workflow / assessment of the options of digitalizing the existing luminaire development workflow of the SMEs
Consulting on the integration of the ambient temperature – forward current relationship into the dimming control of the luminaires LED drivers to assure temperature compensated constant light output
Laboratory testing of luminaire prototypes and assessment of the energy saving potential of the implemented new control scheme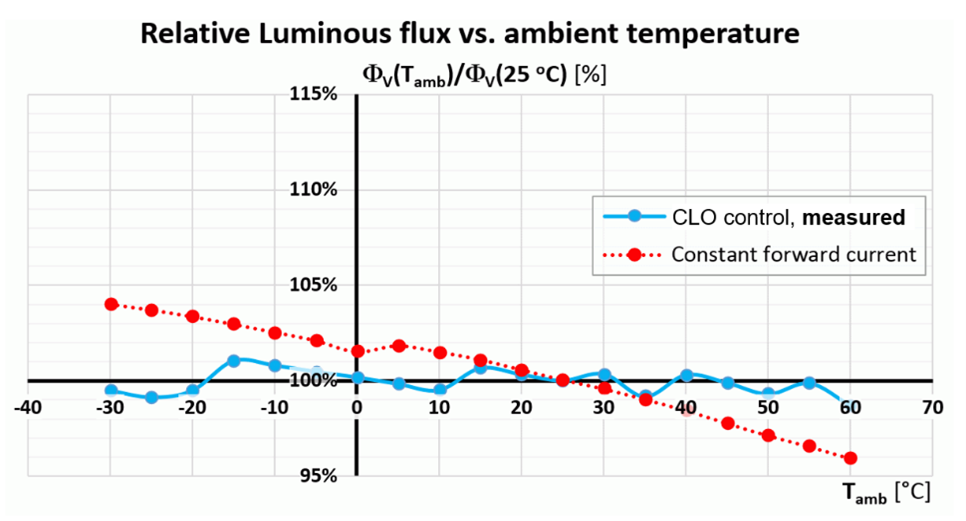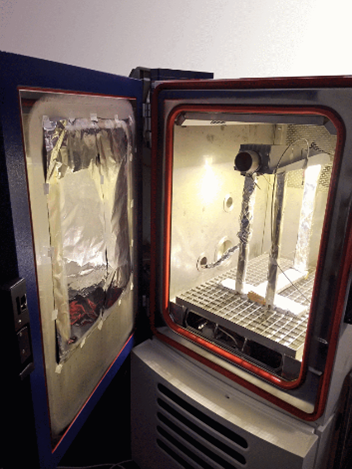 Temperature compensated constant light output control developed with the help of the Delphi4LED workflow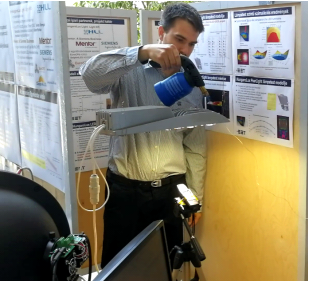 TECHNICAL FOCUS: Digitalized LED luminaire development workflow and implementation of a new, smart dimming scheme of outdoor luminaires
The focus of this generic experiment is to find the possible bottlenecks of the new, digitalized LED luminaire development workflow, identify the needs for improvement (such as dealing with LED ageing) and identify the most characteristic, generic elements of LED luminaire development at specialized SME's for which a common solution should be defined, developed and offered in the near future.
The use of BME's technology offering was demonstrated for street lighting but other application areas such is industrial indoor lighting or horticulture lighting where harsh environmental conditions may influence LED operation could also be considered and assessed.
The basic objective of the project is to establish an innovative know-how, which, with joint efforts, experience and knowledge from relevant stakeholders, will address the challenge of technologically, economically and environmentally efficient approaches, technologies and practices in optimizing LED luminaire design and application in outdoor or harsh environments where temperature swings are significant.
The BME GE technical programme will be constructed around three technological pillars that will be addressed by the GE community.
Multi-domain LED package characterization:

isothermal IVL measurements
thermal measurement of LED packages

Multi-domain LED package modelling for generic Spice simulators (such as LT Spice):

chip level model
compact thermal model of the physical package structure

System (luminaire) level digital twinning for a digitalized design flow:

thermal modelling of the physical structure of luminaires from MCAD designs
use of multi-domain digital twin based luminaire virtual prototypes for design optimizations, beyond energy saving through temperature compensation
APPLY IF YOU ARE:
engaged in LED based application design (standard luminaires or highly customized solution);
engaged in LED package, module and luminaire level testing services and want to expand your activities towards modelling;
engaged in LED lighting design consulting;
engaged in operating larger LED based lighting infrastructures.
Not already part of another DigiFed GE community
DigiFed can support up to 8 European companies in the GE Smart Lightning community with a target of at least 30 – 50% of these companies established in Hungary.
Call Information & Related Documents
Call opening: 6 April 2021
Call deadline: 15 June 2021, 17:00 (CET)
Results: June 2021
GE Implementation start: July 2021
The Standard Generic Experiment Agreement is here: LINK-TO-CONTRACT
FURTHER INFORMATION
For further information please contact: info_GEC_BME@digifed.org
Requirements
Applicants shall be pan-European (EU member states or H2020 associated countries, including the UK) organisations residing in an EU Member State (including their overseas departments) or in one of the EU Associated Countries*.
Applicants engage to sign the Standard Generic Experiment Agreement and to share their feedback on the GE technical results and on the GE community organisation.
Applicants are small/medium (startups and SMEs) organisations residing in an EU Member State (including their overseas departments) or in one of the EU Associated Countries *.
Further requirements on the European Commission's SME definition can be found at:
 https://ec.europa.eu/growth/smes/business-friendly-environment/sme-definition/
A legal entity will be considered a mid-cap (250-3,000 employees) if it complies with the European Commission's and the European Investment Bank definition at: https://www.eib.org/en/about/priorities/sme/index.htm 
*UK companies remain eligible for grants and procurement procedures as if the UK was a member state for the entirety of the Horizon 2020 framework programme and previous framework programmes. This also applies to financial support to third parties according to Article 204 FR (cascading grants) and applies for the duration of H2020 projects.
Digital maturity questionnaire
Please fill in the digital maturity questionnaire as well.