DIGIEVO
Digital Evolution Platform
| | | |
| --- | --- | --- |
| Type | Open Call No. | Funds granted |
| Twin AE | OC 1 | €109,937 |
Challenge
Altar is entering a new development phase requiring a digital transformation of all its activities. First foundational step is screening, selecting and setting up an industrial solution for Electronic Lab Notebook.
• data management and analytics
Large amount of data is generated during each evolution experiments. It is key to set up a digital database with a structure that can both integrate historical data and receive newly generated ones. At the same time, developing digital solutions for data visualization will be essential for presenting key performance indicators to customer.
• online access to the platform
Finally, the dematerialized web platform for evolution service is a new and innovative approach that needs to be completely defined, through description of user stories, workflows, requirements and specifications.
Solutions provided
The solution is based on the combination of a Technology that automates cell cultivation in conditions controlled by algorithms and a Digitalisation process. The concept of the DIGIEVO is to provide a digital platform that can be accessed as easily as cloud computing services, through which the customers will be able to run, monitor and analyze the development of their microorganisms.
Consortium strength
• Altar
Altar operates a small farm of evolution instruments and has develop extensive knowhow on all the aspects including the hardware and associated control software, as well as the processes required to evolve microorganisms. Trade secret has been the main method of protection but recently patent applications were filed both in France and internationally.
• BioSistemika
BioSistemika specializes in custom software development, digitalization consulting and development of laboratory software products. Over the past decade we have launched three global products (PlatR, GENEIO, SciNote ELN) and provided software development and digitalization consulting services to our customers worldwide.
BioSistemika successfully collaborated in multiple grant-funded R&D projects as well as lead international consortia and either owns or shares IP on different software products or software code. DigiFed provides the support for Altar to initiate its digital transformation through a strategic collaboration with Biosistemika and demonstrate the power of its new business model.
Business development
This innovation will enable Altar to transform the market by adapting industrial microorganisms to the industrial conditions. Altar will address a 1B€ market by offering access to its Evolution Platform the same way data centers offer access to calculation capacity.
The Altar's innovative technology and digitalization of Altar processes done by BioSistemika will enable changes of the traditional business model of a CRO. This way, both companies will gain access to new customers, which will result in a higher revenue. For BioSistemika, the collaboration will set an example for other laboratories and will place BioSistemika among the top digitalization consulting companies that are able to support their customers not only with consulting expertise but also by actual solutions that enable digitalization.
Companies involved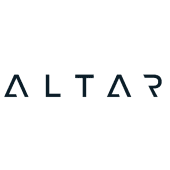 ALTAR develops and operates proprietary technologies that bring microbes to performance suitable for utilization in commercial applications. Our customers use microorganisms to produce food, feed, flavors & fragrances, cosmetics, fuels, chemicals or health products.
| | | | |
| --- | --- | --- | --- |
| Website | Company size | Country | Industry sector |
| www.altar.bio | Micro (1-10) | France | Manufacturing |
---
BioSistemika builds high quality software for laboratory instrument manufacturers, laboratories and software providers. We also help organizations with laboratories on their path towards digital transformation.
| | | | |
| --- | --- | --- | --- |
| Website | Company size | Country | Industry sector |
| biosistemika.com | SME (11-50) | Slovenia | ICT/AI |