Touch & Heat
| | | |
| --- | --- | --- |
| Type | Open Call No. | Funds granted |
| Twin AE | OC 2 | €109,950 |
Challenge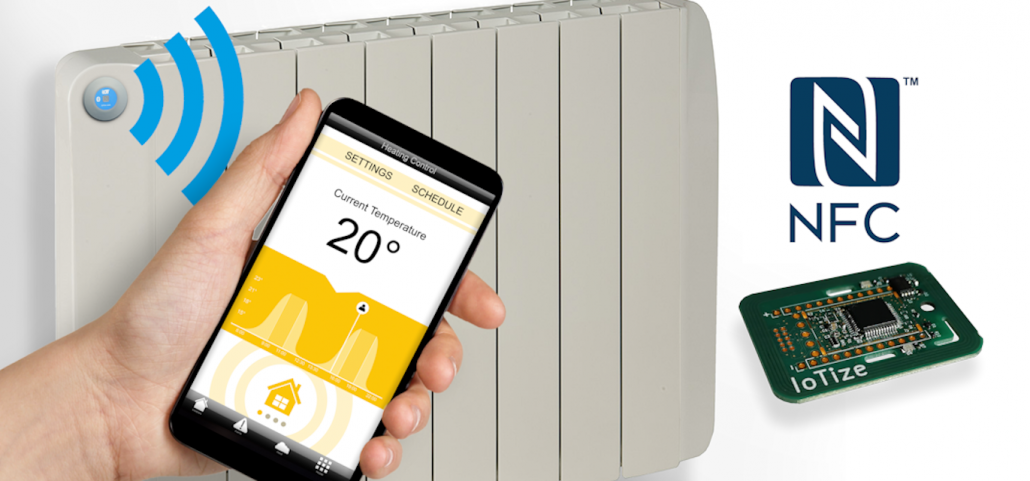 The challenge is to make users program their Electric Radiators & Space Heaters which is done in less than 20% of the households. Using programs would save a lot of energy due to avoiding unnecessary heating in times no warmth is needed in the rooms. Due to complicated controls on the heater thermostats, programming is not done a lot. The way how it is handled at the moment with LCD / Push button controls is very inconvenient, inefficient and complicated for users, and most of the time it requires following a user manual. There are also remote-control applications available using Bluetooth or WiFi but as they require extra hardware (gateways) users are discouraged from using them. NFC is a much simpler and intuitive connection method that reduces technology and project complexity for integrators (wireless, security, mobiles, apps).
Solutions provided
With our approach, we use the same technology as mobile contactless payment, which since the spread of Covid-19 has become a worldwide accepted way of payment, well-known to most smartphone owners. Users can configure their heaters with their smartphone in three easy steps. At first, they need to tap the phone to the NFC tag to collect the current settings of the heater. In the second step, users can adjust the settings in the app and at last, they have to tap again the NFC tag to transfer the new settings to the heater. This is a convenient, easy and efficient programming method which works very intuitively.
Consortium strength
The realisation of the project was made possible by the cascade funding provided by the DigiFed Consortium. Through regular monitoring meetings a smooth project flow was ensured and delays in the development were avoided.
Business development
The turnover forecast is €3,100,000 for the participants over 3 years. IoTize will license the wireless modules and provide R&D services at the cost of €450,000. Cotherm will supply the electronic boards and R&D services for €850,000. Lucht LHZ will sell the final product of electric radiators to their customers for 1700 K EUR.
Companies involved

Global solution for IoT, mobile applications.
---

Lucht LHZ is a manufacturer and seller of electrically operated heating systems. Lucht LHZ supplies more than 140 specialist dealers in over 32 countries. The product portfolio includes surface storage heaters, designer heaters, bathroom radiators, wall convectors and infrared heaters. Our products are manufactured at our Hartmannsdorf and Burgstädt facilities.
---

Cotherm designs and produces thermal control solutions for equipment manufacturers and distributors in a large range of sectors such as heating, ventilation, food service, industrial equipment, pool & spa or energy management. With an international presence and a strong culture of partnership, Cotherm supports its customer with success for present and future needs for products offering comfort, performance, safety, energy savings that reduce environmental impact.