The first DigiFed DIH-Network onlineevent bought together leading DIHs representatives from across Europe to share knowledge and discuss sustainable services to support the digitalisation of Europe's industry.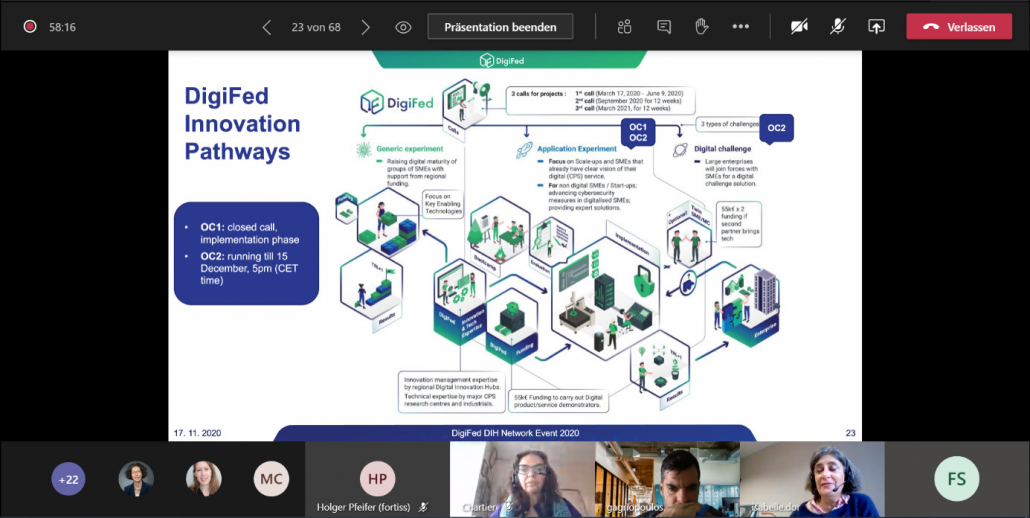 On the 17th of November, the EU Horizon 2020 financed project DigiFed held its first DigiFed Digital Innovation Hubs (DIH)-Network Expansion Event. The almost 50 participants representing DIHs from more than 20 European regions, discussed the different challenges faced by DIHs, including the development of operationally and financially sustainable services to support SMEs, the reaching out to strategic stakeholders, and the interaction with local, national and European eco-systems. Keynote speakers from SmartAnythingEverywhere, DIHNET, FED4SAE, DIH4CPS, HUBCAP and I4MS shared experiences on sustainability and support instruments for SMEs, emphasizing the key role of DIHs in this process. Moreover, participants learnt the DigiFed approach to support SMEs, as well as opportunities provided by other Innovation Actions under SAE.
Discussion targeted three major topics: (i) DIH financial and operational sustainability strategies, (ii) Developing successful tools and services for DIHs, and (iii) DIH-collaboration strategies.
The main results of the activity include:
(i) From the collaboration perspective there is a trade-off in the form of the need for enhanced collaboration, thorough exchange of knowledge and skills and how to access it, but this has to be somehow managed in a way that support to a distributed and diverse SMEs landscape is effective.
(ii) From the sustainability perspective, it was discussed that most of the DIHs have emerged as a European initiative and they are very reliant on EU funding. In this context, the development of suitable revenue models is essential for the financial sustainability of DIHs.
(iii) From the perspective tools and services, it was mentioned that the service needs of SMEs change drastically depending on the digital maturity of the local industry. Moreover, it was mentioned that as a priority, SMEs are willing to pay for technical support/services, followed by matchmaking and networking services depending on the digital maturity of the local environment.
To download the Keynote presentations please visit: https://digifed.org/event/sae-digifed-first-network-expansion-event/
https://digifed.org/wp-content/uploads/2020/02/DigiFed-logo-horizontal-M.png
0
0
admin
https://digifed.org/wp-content/uploads/2020/02/DigiFed-logo-horizontal-M.png
admin
2020-11-21 10:30:00
2020-12-18 10:30:36
Digital Innovation Hub representatives discuss strategies to foster and expend the European digital ecosystem