DigiFed will take part in the Leti Innovation Days, the flagship event on next-generation electronics, and showcase the Generic Experiment "Secure Platform for IoT" with a booth at the SMEs Village. It will host a workshop within the SMEs & the International Market event, and three of its partners will give a sales-oriented pitch at the Forum Area
The 3-day CEA-Leti flagship event will feature next-generation electronics industry leaders' presentations.
The chip shortage has given an extraordinary boost to Moore's Law. At the Leti Innovation Days it will be possible to find more about policy makers' and tech leaders' strategic decisions on downscaling, "More than Moore electronics" and other future technologies for components. Moreover, it will be a crucial occasion for all sector stakeholders to Identify key emerging technologies to grow business.
You can register here to attend the Leti Innovation Days and meet DigiFed.
DigiFed will participate in the SMEs Village with the Generic Experiment's booth "Secure Platform for IoT" together with CEA-LETI, CYSEC, Panoramic and CKIN.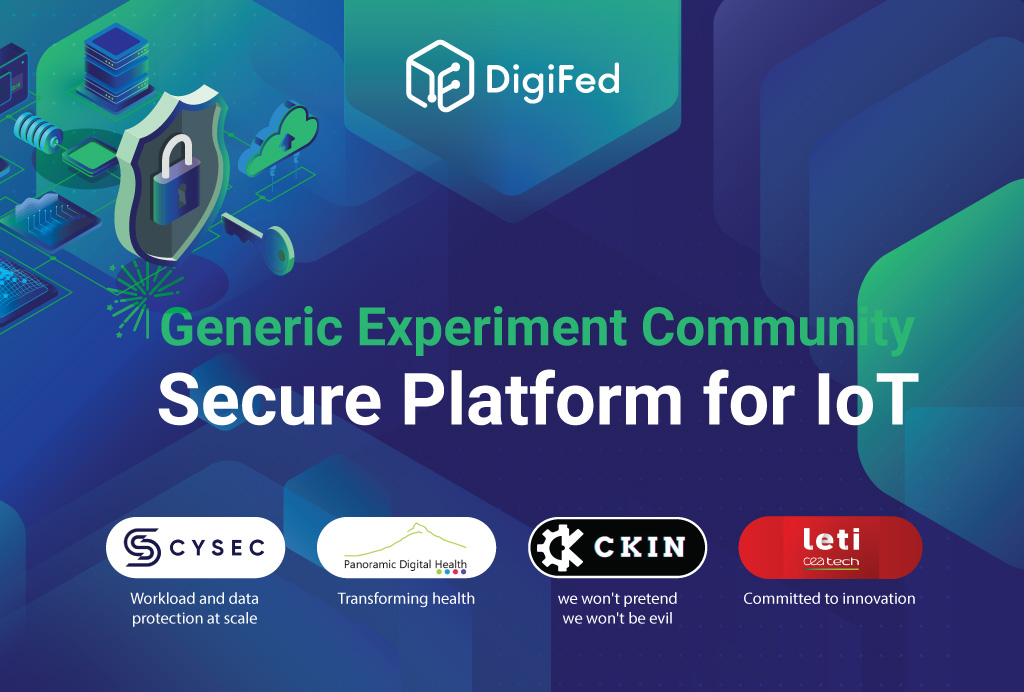 The Secure Platform for IoT integrates an STM32MP1 microprocessor with ARM TrustZone hardware isolation combined with a STSAFE-TPM (Trusted Platform Module) certified CC EAL4+ and FIPS140-2 level 2.
The Secure Platform for IoT provides a trusted execution area with a secure element for critical secret protection, a monitoring solution against intrusion and exploitation of vulnerabilities and a cryptographic toolkit to secure device communications.
The Secure Platform for IoT community gathers 21 EU SMEs.
The Community members shared their use case and technical needs concerning the security of IoT systems.
Moreover, DigiFed will participate in the SMEs & the International Market workshop in the afternoon of the 22nd, to which you can register here.
The workshop is addressed to any SME wishing to accelerate its international business. Attendees will be able to exchange with players such as Team France Export, Auvergne-Rhône-Alpes Entreprises or Minalogic providing support to such end. Collaborate with us and our international ecosystem to identify new projects or business opportunities. Registered attendees will be also able to meet and learn from companies that have been successful in their field.
The workshop will involve two roundtables on Generic Experiments and Digital Challenges. Below is the agenda of the workshop.
| | |
| --- | --- |
| 08.30 a.m. | Registration & Welcome coffee |
| 09.25 a.m. | Introduction Céline SOUBEYRAT, EasyPOC Program Manager, CEA |
| 09.30 a.m. | Strategy of Auvergne-Rhône-Alpes for international development Yannick NEUDER, Vice-président, Région Auvergne-Rhône-Alpes |
| 10.00 a.m. | Team France Export Presentation Marc CAGNARD, International Director, CCIR |
| 10.30 a.m. | How supporting SMEs going international ? Joëlle SEUX, Director of the Grenoble Isère agency in charge of International (exports & Europe), Auvergne-Rhône-Alpes Entreprises |
| 11.00 a.m. | PANEL SESSION #1 A roundtable discussion with SMEs who have succeeded in their international development with Pascal Metzger CEO, SET Corporation S.A. Laurent Pain Business Director of the Silicon Technologies Division, CEA-Leti Coralie Galand, International Project Manager, Auvergne-Rhône-Alpes Entreprises Piero Bruno, Sales and Marketing Director, ALPAO animated by Céline SOUBEYRAT, EasyPOC Program Manager, CEA |
| 11.30 a.m. | NETWORKING, EXHIBITION & LUNCH |
| 02.30 p.m. | How supporting SMEs for setting up European projects ? Charlotte RIX NICOLAJSEN, Head of Bureau Europe, Auvergne-Rhône-Alpes Entreprises |
| 03.00 p.m. | The EDIH MINASMART : a multiplier and diffuser of the use of all the digital capacities Pierre-Damien BERGER, Director of MinaSmart, Minalogic |
| 03.30 p.m. | DIGIFED: Digitising Europe Industry's Together Isabelle CHARTIER, DigiFed Coordinator, CEA-IRT Nanoelec |
| 04.00 p.m. | PANEL SESSION #2 Digifed experimental pathways A roundtable discussion with DigiFed communities of SMEs around Cybersecurity projects with: Thierry Fensch Innovation & Collaborations Director, STMicroelectronics Yacine Felk COO Co-founder, CYSEC Animated by Isabelle Chartier, DigiFed Coordinator, CEA – IRT nanoelec A roundtable discussion around DigiFed collaboration between a large company and SMEs Vincent Bouillet, Senior Fleet Engineer, GE Renewable Hydro Charles Garnier, European Project Officer, CATIE Animated by Bastien Hualpa, European Project Manager, Minalogic |
| 04.30 p.m. | closing session & discussion |
Lastly, DigiFed's partners will take part in the Forum Area and give 15-minute sales-oriented pitches (register here):
21/06/2022; 12h15 – CYSEC
23/06/2022; 12h00 – STM
23/06/2022; 13h45 – Panoramic Digital Health

https://digifed.org/wp-content/uploads/2020/02/DigiFed-logo-horizontal-M.png
0
0
admin
https://digifed.org/wp-content/uploads/2020/02/DigiFed-logo-horizontal-M.png
admin
2022-06-03 15:26:31
2022-06-03 15:37:12
Join DigiFed at the Leti Innovation Days in Grenoble from 21st to 23rd June