DIGIFED General Assembly
The DIGIFED General Assembly will be hosted by the University of Ljubljana on the 12th and 13th of July 2022. This event will be the opportunity for the consortium to meet, exchange, and move towards the final steps of the project. The meeting format is on-site, partners are encouraged to join the event venue. However, due to the pandemic, the organizers will offer the possibility to participate online.
Registration and Agenda:
The General Assembly is restricted to the DIGIFED partners. The registration is open so please, click HERE to register. The organisers need to know the number of participants on-site and online so please register by 20th June. The provisional agenda is available HERE. Updates will be added.
Meeting venue
Venue: Faculty of Electrical Engineering
Address: Tržaška 25, 1000 Ljubljana, Slovenia (How to reach us)
Organizer: Faculty of electrical engineering, University of Ljubljana (UL FE)
Website: https://fe.uni-lj.si/en/, http://ltfe.org/en/
Getting to Ljubljana
By Plane
Ljubljana Jože Pučnik Airport is located 25 km northwest of the city of Ljubljana (20 min. journey by car).
If you are staying at City Hotel, they can pick you up at the airport (9 eur one way). You can arrange that when booking a room. Please see the details below under "Accommodation". The airport is connected to Ljubljana by a city bus service departing every hour from Stand 28 of the bus station (50-min. journey) and costs around 4 EUR. The airport is also connected to the city by shuttle buses, one departing every hour. For more information, please visit: https://www.lju-airport.si/en/. Perhaps your country is on the list of additional air traffic during summer: https://www.lju-airport.si/en/info/news/increased-offer-of-flights-from-ljubljana-airport-in-summer-season-2022/.
Other airports within reasonable distance to Ljubljana.
Airport Graz, Austria: 187 km
Airport Klagenfurt, Austria: 85 km
Airport Zagreb, Croatia: 140 km
Airport Trieste, Italy: 130 km
Airport Venice, Italy: 230 km
Transfers from airport and nearby
Several airports within reasonable distance to Ljubljana are served by low-fare carriers. Favourably priced scheduled transfers from these airports and Ljubljana Jože Pučnik Airport can be booked through the website at GoOpti.com.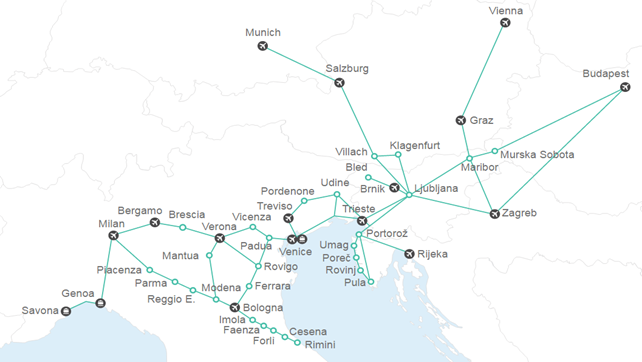 Low-fare bus connections
The schedule for low-fare bus connections from several surrounding cities can be found at FlixBus.si. Select the desired language and destination to view current schedule.
By train
Ljubljana's central train station (in Slovenian: zelezniska postaja) is situated in the middle of the city, about 10 minutes walk to City Hotel, about 20 minutes walk to the Adora Hotel.
To get to the city center from the station or vice versa take Miklošičeva street as it connects them directly. If you feel like taking a day trip around Ljubljana or to one of Slovenia`s tourist destinations like Bled, Piran or Postojna Cave, you can use train or a bus, hire a car or choose one of the tour providers. There are eight platforms on the main train station of Ljubljana. Find them behind the entrance building that houses ticket offices and some cafes and shops.
There is also a rent a car office, a car parking lot and luggage storage facilities.
By car
If you will be arriving with your car, you can park it according to your accommodation instructions (Parking building,…). If you will also use the car to arrive to the event venue, you can park for free at the Faculty parking and here are the instructions: https://www.google.com/maps/d/u/1/edit?mid=1o6fChFhAkZmWLw9nB0VVHyJsDEEOf3Fh&ll=46.044429901236164%2C14.48976639999998&z=18
Getting around in Ljubljana
On foot: Ljubljana is a small city and you can manage easily without using public transport.
By bus: If you like to travel by city buses, you should purchase the Urbana public transport card. It is available from LPP ticket offices, tourist information centres, most of the city kiosks and post offices. The card is priced at 2 EUR and can store up to 50 EUR of credit to be spent on city bus fares. A single journey fare 1.30 EUR. It covers one journey up to 90 min. regardless of the number of buses needed to be changed to reach the destination.
By Taxi: Approximate price 5 – 10 EUR within the city
Accommodation
Special room rates for attendees of the event have been negotiated with City Hotel. To take advantage of these rates and ensure your accommodation, please make your reservation until 17th June 2022
The meeting venue can be reached in 25 minutes on foot or faster by bus (map).
Other nice hotels:
More places to stay: https://www.visitljubljana.com/en/visitors/places-to-stay/
Other practical information:
The official Slovenian tourist website: https://www.slovenia.info/en.
If you are interested in 1 day trip/excursions, we recommend Slovenia Explorer http://www.slovenia-explorer.com/.
Slovenia in Brief
Slovenia is a country in Central Europe touching the Alps and bordering the Mediterranean. Slovenia borders Italy on the west, the Adriatic Sea on the southwest, Croatia on the south and east, Hungary on the northeast, and Austria on the north. The capital and largest city of Slovenia is Ljubljana. The capital of Slovenia, is a vibrant central European city lying between the Alps and the Adriatic Sea, in a basin where the Ljubljanica river flows into the Sava.
Slovenia covers an area of 20,273 square kilometres and has a population of 2.06 million. Around 40% of Slovenia's land mass is elevated land—mostly in the form of mountains and plateaus—which is located in the interior regions of the country. The highest point of Slovenia is the 2,864 metre (9,396 ft) high Mount Triglav. The majority of the population speaks Slovene, which is also the country's official language. Other local official languages are Hungarian and Italian.
Slovenia is a member of the European Union, the Eurozone, the Schengen area, the Organization for Security and Co-operation in Europe, the Council of Europe, NATO, UNESCO, WTO, OECD and UN. (more www.slovenia.info) As a small picturesque country, Slovenia makes a great tourist destination. You can ski in the morning and surrender yourself to the luxury of the Adriatic Sea in the afternoon.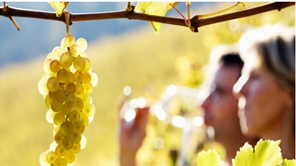 The country is also known for its great wines and delicious traditional food.
Sightseeing & activities within walking distance:
Ljubljana's Old Town
Ljubljana castle
The three bridges
Town Hall
Market
Tivoli park
National Museum & National Gallery
Opera House, National Philharmonic Hall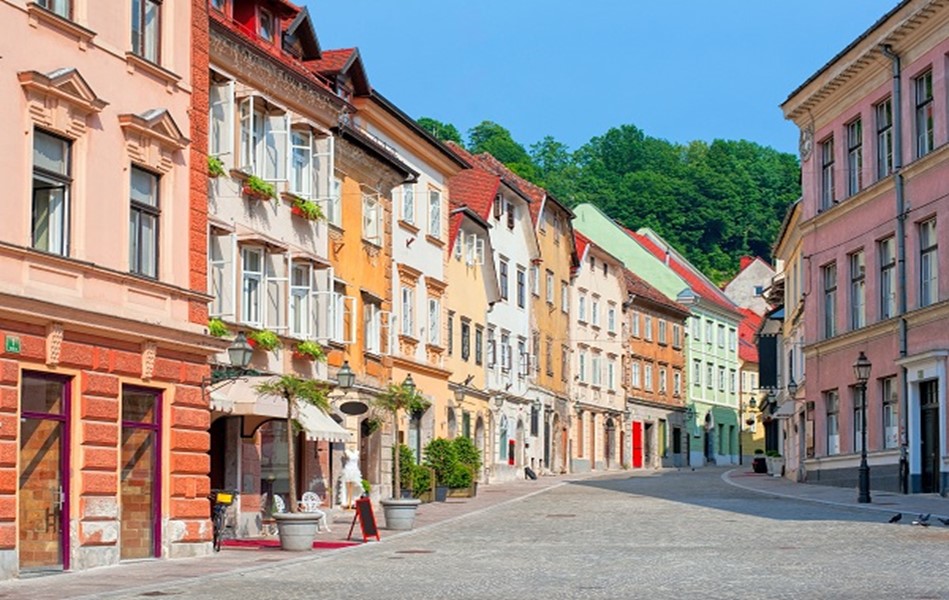 Some nice restaurants (Ljubljana downtown)
Slovenian cuisine
International cuisine
Fusion
Up to 1 hour drive away:
Bled – a stunning Alpine lakeside resort
Postojnska jama – cave – natural Karst cave system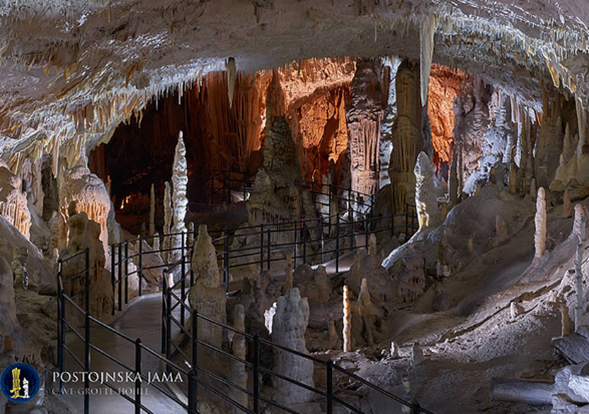 Predjama castle – the largest cave castle in the world.
Lipica – Stud farm with white Lipizzaner horses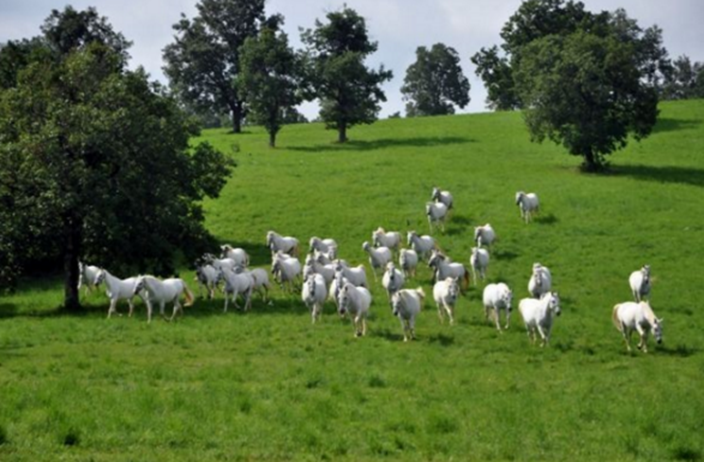 Piran & other costal city's – the Adriatic

Contacts
UL
Jure Trilar
4P DIH, Laboratory for Telecommunications, Faculty of Electrical Engineering, University of Ljubljana
jure.trilar@fe.uni-lj.si
Jure Verhovnik
4P DIH, Laboratory for Telecommunications, Faculty of Electrical Engineering, University of Ljubljana
jure.verhovnik@fe.uni-lj.si
Emilija Stojmenova Duh
4P DIH, Laboratory for Telecommunications, Faculty of Electrical Engineering, University of Ljubljana
emilija.stojmenova@fe.uni-lj.si
DIGIFED Coordination Team
Isabelle Chartier
Project Coordinator
isabelle.chartier@cea.fr
Niclette B. Kampata
Project Manager
NKAMPATA@zabala.eu
https://digifed.org/wp-content/uploads/2020/02/DigiFed-logo-horizontal-M.png
0
0
admin
https://digifed.org/wp-content/uploads/2020/02/DigiFed-logo-horizontal-M.png
admin
2022-06-08 06:32:12
2022-06-25 15:49:07
DigiFed General Assembly 2022 in Ljubljana