Next-generation sensors for predictive operation of water treatment
Acciona is looking to establish an end-to-end digital solution for measuring, reporting, and visualising the performance of each reverse osmosis membrane from pressure vessels part of their desalination plants.
The manual technique of monitoring the performance of individual reverse osmosis (RO) membranes is very laborious, time consuming and not practical, especially for large size desalination plants in which thousands of RO elements are part of a desalination facility.
Acciona is looking for innovative digital solutions that could continuously monitor the performance of each membrane element in a multi-vessel array. With current procedures:
the performance of the elements cannot be assessed in real-time.
water operators have no visibility of the pressure vessel's performance and cannot easily identify the problematic RO membrane inside the vessel.
maintenance activities are programmed or carried out only once problems in a rack (a series of pressure vessels joint in one unit) occur.
part of the production needs to be stopped to investigate the problem resulting in high costs and inefficiencies.
Solving this challenge will provide an accurate and continuous monitoring of the performance of RO elements at all times. This will mean an important advance in the digitisation of the plants and an important technological advantage in the field of desalination.
Digital Challenge Owner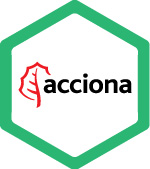 The water business of Acciona is putting its innovative and technical potential into action to create solutions to water scarcity, sanitation problems, access to this vital resource and increased demand. The company leads the water treatment sector through the design, construction and operation of reverse osmosis desalination plants, drinking water treatment plants, wastewater treatment plants and tertiary treatments for water reuse, and has reinforced its focus on services for cities. It is a worldwide leader in the water treatment sector, especially in the field of reverse osmosis desalination. In 2020, the company treated almost 1,000 Hm3 of water, 50.4 % in water stress areas, benefiting more than 100 million people throughout history.
Digital Challenge Solution Provider
A high-tech company, Instrumentation Technologies is a world-leading provider of beam position stabilisation systems, globally renowned by the brand name Libera. Utilising the knowledge gained in the demanding field of high energy physics, Instrumentation Technologies expanded to offer expertise in other sectors, such as automotive, energy, IoT, Smart Cities, telecommunications, aerospace, and many others. The well-experienced, ISO 9001 certified engineering team specialises in developing customised Data Acquisition devices, focusing on Sensorics, Data Acquisition and Processing, and Communication.
Digital Challenge Proposed Solution
To tackle Acciona's challenge, the Instrumentation Technologies team provides a solution that will enable Acciona to monitor the membranes remotely, continuously and in re-al-time without stopping the operation of the plant. More specifically, SWICSSY will allow Acciona to:
Assess the performance of the reverse osmosis membranes in real-time.
Have the visibility of the pressure vessel's performance and easily identify the problematic reverse osmosis membrane inside the vessel.
Integrate conductivity measurements as part of active operational strategies.
SWICSSY will represent a significant improvement, especially for large desalination facilities with thousands of RO membranes.
---
The project fills the gap between technology development and market uptake of products by bringing together main stakeholders along the value chain, from applied technology and innovation management in the role of Digifed Monitoring Partner Digital Catapult, technology development represented by Instrumentation Technologies and end user expertise from the DCO-ACCIONA Agua.