Experimental cascade funding schemes coupled with business and innovation management provided by the Horizon 2020 project, DigiFed, brought 15 small-scale projects to excel at the IOT Solutions World Congress in Barcelona
From a robotised AI-equipped digital microscope for pollen analysis to near field communication for electric radiators, the list of innovative projects that participated in the IOT Solutions World Congress (IOTSWC) 2022 thanks to DigiFed is quite long and diverse. During the three-day international event in Barcelona showcasing the technologies that will disrupt the Internet of Things industry, the 20 SMEs behind the 15 projects showcased gained visibility while nine of them were able to network during a pitching session with external investors.
Watch the video we recorded at the event to learn about DigiFed's cofounding and codesign mechanisms: Application Experiment, Digital Challenge and Generic Experiment, and find out what participants says about DigiFed.
DigiFed project had a dedicated area where each of the 15 solutions enjoyed a booth with a small station and were able to receive visitors and present their unique solutions. DigiFed's area stood out from the crowd, owing to the consistency of the visual identity across all projects – despite the wide difference in terms of sector covered. Thus, not only the uniqueness of DigiFed's experimental cascade funding pathways – Digital Challenges and Generic Experiments – but also its narrative coherence contributed to attract many visitors, eager to learn more about what seemed to be a sole, compact family of projects.
DigiFed exhibitors represented several industry sectors at the event, including cybersecurity, energy, foodtech, agriculture and many others. These included:
Friblocs – Frame integrated bike location and communication system;
Albicchiere – Smart wine dispenser;
USAB – Universal security active Badge;
Dynagrid – Software integration combining manufacturing efficiency and quality in additive manufacturing;
Touch & Heat – Near field communication (NFC) for electric radiators and space heaters;
Waisense Guard – System for water monitoring in response to COVID-19;
Safesound – Intelligent edge-based detection of fire alarms;
Smart BMC – Smart building management system box;
Track Log – Smart tracking and monitoring system for logistics management;
Honey Al – Artificial Intelligence (AI) for the honey industry;
Ntouch 2.0 – Bringing touchless control to industry 4.0;
Smart Ramp – Reducing the risk on bus access ramps for disabled people supported by AI;
IoT-sec-holistic – Improving cyber-attack detection more accurately;
Instrumentation Technologies and Acciona – Next-generation sensors for predictive operation of water treatment;
On the occasion of the event, the project's booklet has been created and disseminated. Such a document will soon be updated once the collection of the project's flyers will be finalised.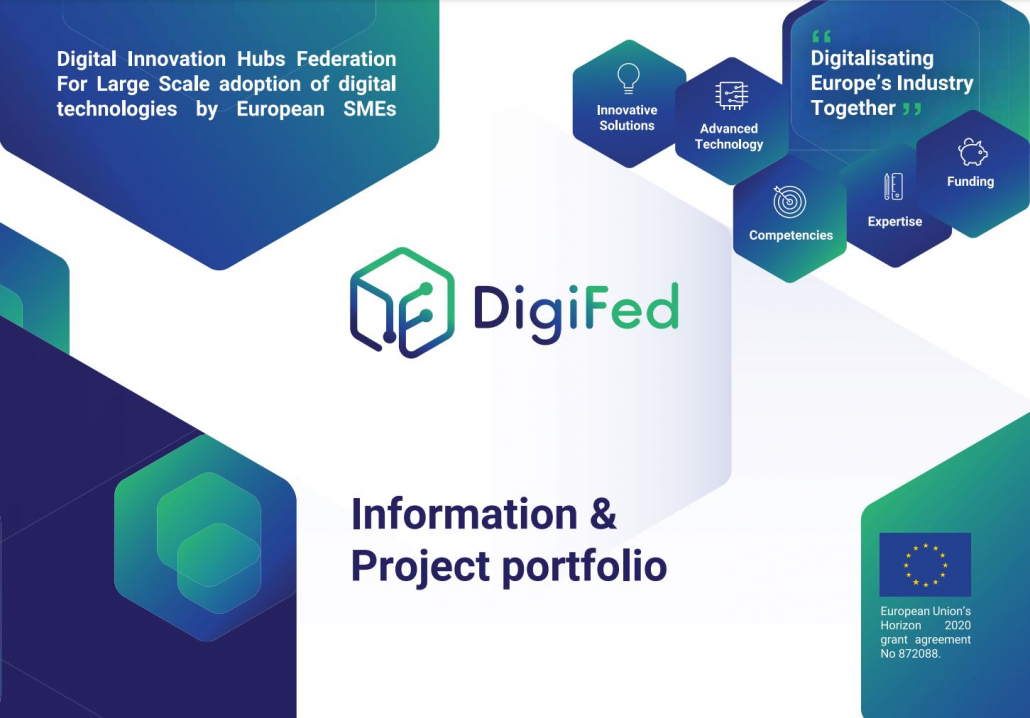 As DigiFed's partners gathered for the first time in person since the beginning of the project, this occasion also gave the possibility to host a physical Project Management Board Meeting at the premises of the French Chamber of Commerce in Barcelona.
https://digifed.org/wp-content/uploads/2020/02/DigiFed-logo-horizontal-M.png
0
0
admin
https://digifed.org/wp-content/uploads/2020/02/DigiFed-logo-horizontal-M.png
admin
2022-06-17 17:22:00
2022-11-22 14:45:26
Innovation starts from the bottom with DigiFed at the IOT Solutions World Congress in Barcelona